Iwatana-do Okinawa Kenpo Karate' Black Belt Registrants

Sensei Steve Taylor Ni-dan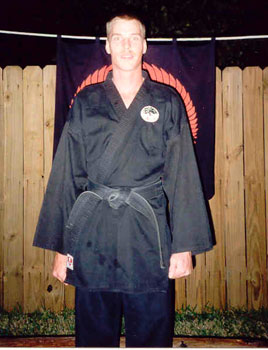 I'm Steve Taylor; I have been training since January 1st, 1990. I began Karate' to learn how to fight because I was tired of being bullied. I soon learned that Karate' was more about how not to fight, and finding alternative solutions.

I have learned that training falls into several areas, physical, mental, technique, and all are equally important. After 12 years of training I find that I use this knowledge in all aspects of my life, not just in class or fighting.

The physical portion of my training has increased my strength, endurance, speed, flexibility, self-confidence, and I am healthier. I also learned how to expand my limitations opening opportunities that before didn't exist.

The mental portion of my training has taught me about the history and philosophy of the martial arts. How the techniques work, and when to use them increases the understanding of what we do. I have increased my level of awareness and self-control. I now have the ability to find alternatives to fighting. I have learned to control my temper and not to make problems worse.

I don't have a favorite area of training, Karate' has made me a better person. It's tenants help me make better decisions and live healthier every day.